Semalam saya pegi Seminar Marketing power br Dr Azizan. Dr Azizan yang agak sedap gak badannnya tapi sedap lagi idea dan pemikirannya.
Seminar tu dibuat di Sunway Convention Centre, Seberang Jaya. Saya pegi dengan mak n bapak sebab seminar waktu malam kan. Takut jugak nak balik malam² so kene bawak peneman. Saya adalah antara pendaftar terawal so dapatla harga RM10 sorang utk 3 orang n guess what..kami bertiga dapat hadiah buku percuma, "Rahsia mnejadi kaya dan berjaya, dunia & akhirat" that cost RM35 for free. Ingat ke semua dapat tapi rupanya tak. Saya rasa memang bertuah la sangat semalam.
this is the free book
Duduk 2 jam dalam seminar dia tak rasa boring. Semangat sentiasa membuak² untuk berjaya. Dia pandai tarik audience untuk dengar apa yang disampaikan. Dia ada buat kelas advance 3 hari di KL on this 26 Oct kot kalau tak silap. Mak dan saya teringin nak pegi tapi bapak macam tak bape nak bagi sebab jauh. Hmm..takpelah belum rezeki. Kalau daftar semalam boleh dapat harga murah la dalam ratus²an. Kalau tak, harga jadi ribu²an.
Saya rasa kelas tu sangat berguna untuk berubah. Dia tak target kepada peniaga je. Yang belum berniaga pun dia cuba cetuskan semangat untuk berniaga. Semalam ada jugak dia panggil mereka yang berjaya untuk share pengalaman. Yang paling menarik, pelakon Shidi, hubby Vanida Imran pun datang share experience. Dia cakap dia bisnes emas. Normally monthly dia dapat antara RM20k-RM30k sebulan...erk bagi saya banyak gila dah tu. Tapi lepas ikut seminar..dia dapat RM450k..menghampiri setengah juta dah tu. Wow!! Gila kaya. Macam mana tak semangat, ye tak?
Shidi punya la hensem and I manage to snap my pic with him. Taraaa...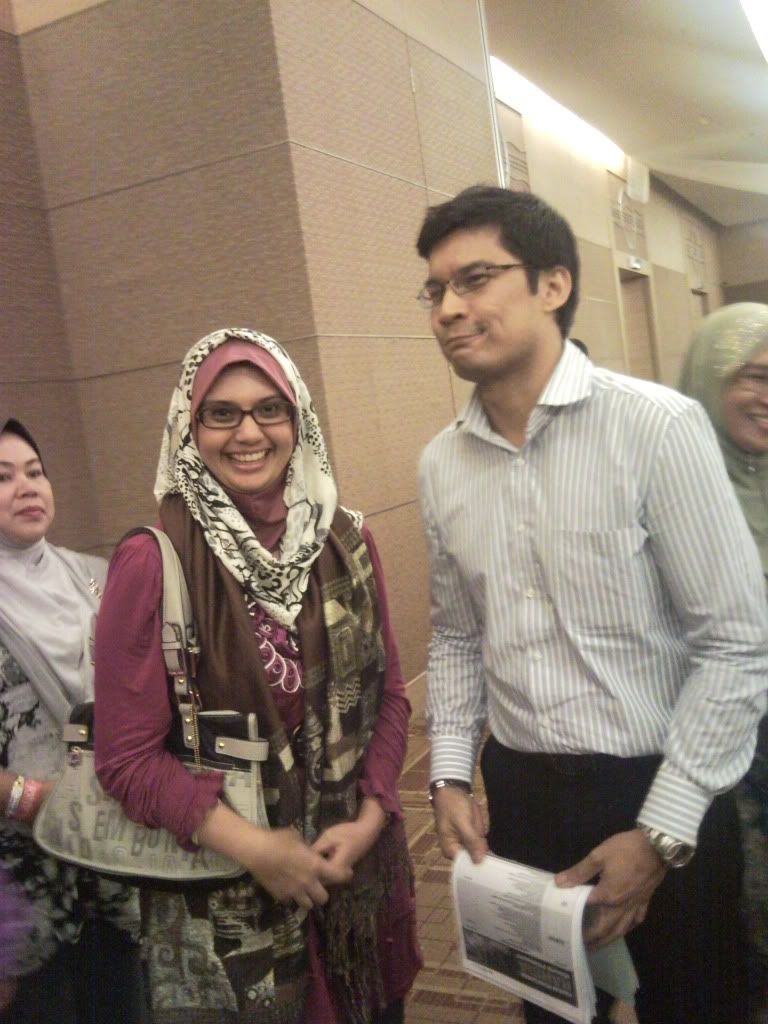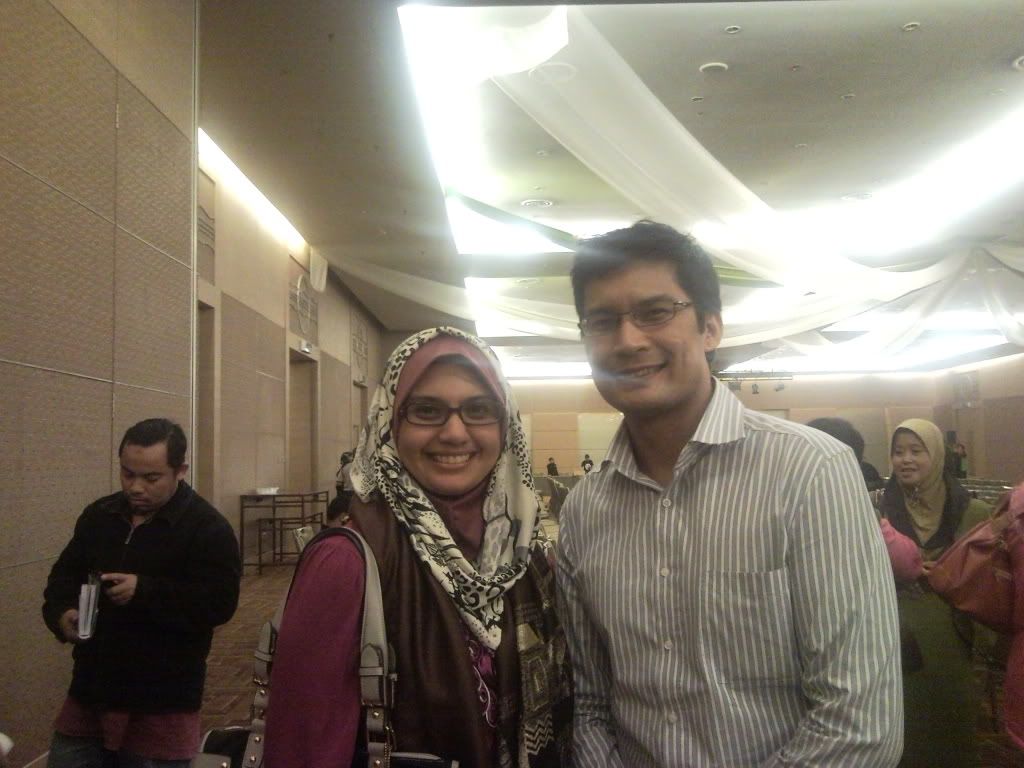 Mintak tolong org tangkap tu sebab gambar macam tak bape nak ok. Tapi puas hati la. Sib baik gambar tak gemuk..hihi..perasan.
Semalam abis semua dalam kul 11pm. Bawak bapak n mak makan kat Kassim Mustafa, Bandar Sunway dekat² situ jugak. Actually petang tu dah makan tauhu sumbat n cous cous (I'll blog about it later) buat lapik perut sebab balik keje semalam lapo tergedik².
Mula² rasa lapo tapi rasa ok..tapi rasa tingin nak makan. Tingin sangat minum teh tarik. What? Teh tarik?? Atkins?? Erk...Order dua gelas je..saya share dengan mak. Lepas tu dengan penuh rasa bersalahnya, saya order set tandoori dgn nan cheese..pun share dgn mak. Bapak saya order mee goreng. Saya pun makan dengan perasaan agak bersalah tapi hentam je la. Sampai rumah terus tdo. Pagi tadi timbang..tadaa...ilang lagi 100gm. Hmm..kalau tak makan semalam mesti lg banyak gm yang hilang kan. Takpe²..give myself a break la dan tandoori semalam memang sedap gila..to the max.
Pagi ni bangun lambat, x sempat prepare bfast and luckily I got cous cous. Makan sikit dah kenyang. Hopefully boleh maintain berat ni. Ok..dah..wat keje jom.