Rekod la hari ni, 3 kali update blog. Nampak sangat 'banyakkkk' keje. Bukannnnnnnnnnnnnnnnnnnnnnnnnn................hari ni keje slow skit sebab bibir tersangat² kering even minum air berliter² semalam dan hari² sebelumnya. Lepas berbuka semalam pun kering. Then macam bengkak. Nak kata tak cukup air, macam really impossible la sebab saya minum air berliter². Maybe sebab panas dan dok dalam aircond je.
Tapi apa kaitan bibir kering dengan buat keje slow? Erk..ntah.
Yang ditunggu telah tiba? Hehe..jeng jeng jeng..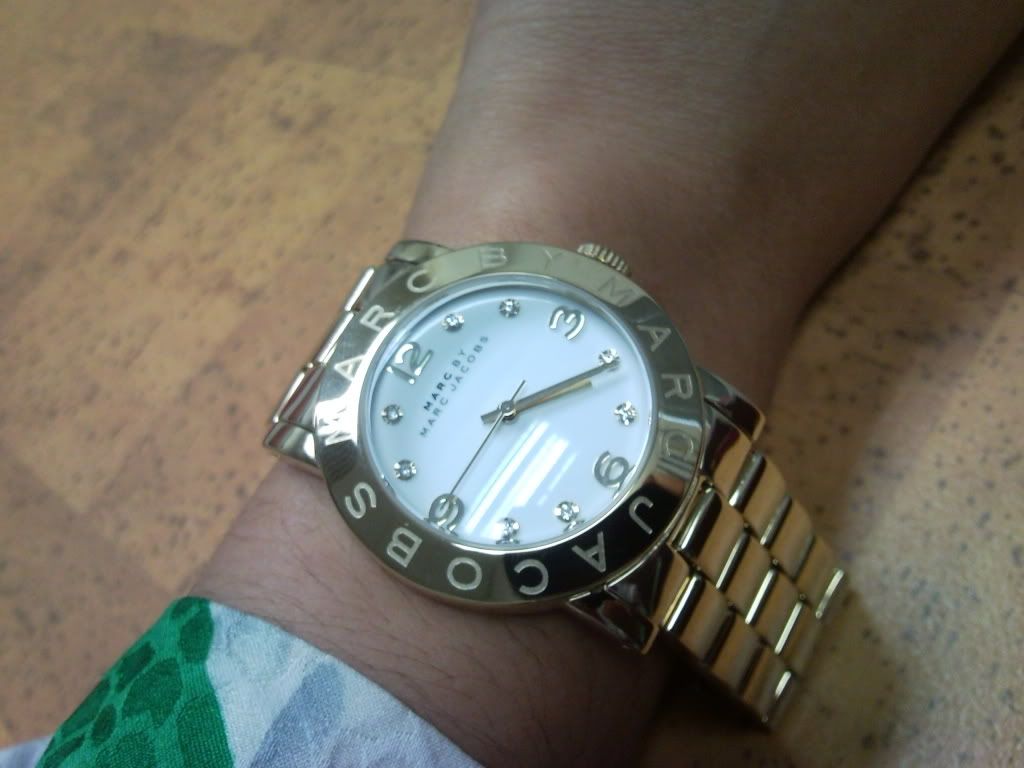 My new edition of Marc Jacobs dah sampai. Excitednya. Excited gila. Dah lama saya mengidam, dari tahun lepas. Nak tukar jam baru. Dan saya ni cerewet la sangat dalam memilih jam. The parcel just arrived tak sampai sejam tadi dan saya terus pergi kedai jam untuk potong bracelet dia bagi pendek sikit. Almaklum, badan saya beso tapi tangannye kecik. Kalau badan naik, tangan maintain je kurus..;) Syukur dengan anugerah Allah..
Normally kalau saya dapat barang baru yang agak mahal, akan terjadi something pada barang tu. Takut ah. Dalam keadaan berjaga² ni. Antara kes yang pernah terjadi:
Jam baru dapat hadiah masuk contest: Scratch sikit langgar dinding kot. Lepas tu tak langgar apa dah.
My first car: Bumper langgar tiang garaj lepas umurnya baru 2 hari.
My first baju sutera beli dengan duit sendiri: Langgar paku kat meja masa first time pakai gi opis.
Kasut kulit baru beli masa masuk keje USM kaler cream: Terseret jalan tar menyebabkan stain yang tak hilang.
Yang herannya lepas insiden pertama tu, barang tu elok je..takde apa² insiden dah. Betapa clumsynya saya. My new Marc Jacobs ni yang bakal memasuki usia sejam dalam masa 5 minit lagi akan cuba saya jaga dengan sebaiknya. Sayang oo. Tapi saya tetap risau. Huhu..