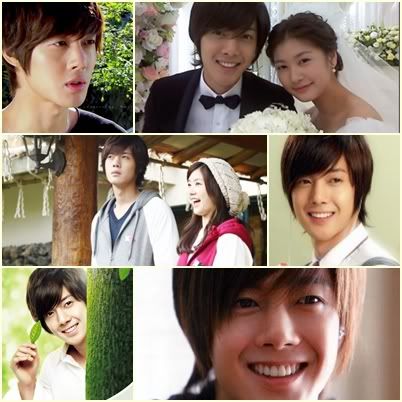 At last..abis jugak tgk cite Mischievous Kiss lakonan Kim Hyun Joong dan Jung So Min. Hmm..what to say...memang best...rasanya dah addicted to Korean drama la. Actually memang dah suka sangat kat Kim Hyun Joong.
Kesah ni tentang seorang budak yang biasa² je, Oh Ha Ni (Jung So Min) yang memendam perasaan selama 4 tahun kat Baek Seung Jo (Kim Hyun Joong) seorang budak yang genius. Dia dah luah hati thru surat masa kat high school tapi ditolak mentah² oleh Baek Seung Jo. Biasa la budak terror and budget handsome (tapi mmg handsome pun) mana la nak dekat budak yang biasa² je lepas tu result dia lak salu corot. Nak jadi cite rumah Oh Hani Ni runtuh sebab gempa bumi dan kawan ayah dia yang kebetulan adalah ayah Seung Jo ajak tinggal serumah sementara. Mak Seung Jo lak suka kat Oh Ha Ni sebab dia takde anak perempuan. Oh Ha Ni pulak happy sangat sebab dapat dok serumah dengan Seung Jo. Macam² la terjadi between both of them. Seung Jo asyik ignore dia n kutuk dia je. Oh Ha Ni pun bape kali give up tak nak suka dah kat Seung Jo tapi tak boleh jugak. Yang bestnye..at last Seung Jo suka gak kat Oh Ha Ni walaupun dia tak bape nak tunjuk. Dia suka tapi tak faham dengan perasaan sendiri. Lambat sikit nak sedar. Bukan lambat sikit tapi lambat banyak. Dia suka dengan perangai clumsy Oh Ha Ni yang cute. I love this story so much, especially bila tgk muka Kim Hyun Joong. watak heroin biasa² je.
Hmm..lepas ni cite Korea mana lak nak tengok eh. Tapi cite ni memang sweet dan buat saya tersenyum sorang² bila tingat part² yang cute.